Madame Alexander Dolls
An up-market brand of American dolls of various sizes and numerous personalities, in production since 1923. Founded by the daughter of Russian immigrants, Mme. Beatrice Alexander Behrman, was raised in a flat above her father's doll hospital, and often played with the dolls waiting to be mended. This dynamic woman initiated a series of firsts in the toy industry: the first to bring baby dolls to the market, the first to create dolls in honour of living people, and the first to introduce the full-figured fashion doll (Cissy) with haute couture outfits. These beautifully crafted dolls 8"/22.5cm are still made today - they have utterly beautiful faces, hard vinyl bodies, closing eyes, and glued-on wigs, making them unsuitable for children who like to do lots of hair styling.
Click images above to enlarge
Two unusual Madame Alexander dolls have come our way - they've got the same lovely little face as other dolls by this high-quality manufacturer, but these slightly newer dolls have long, thick, lustrous comb-able hair! (Perfect for little girls who like to do a lot of hair styling). One has Oriental features and bendable knees; the other has long, auburn hair.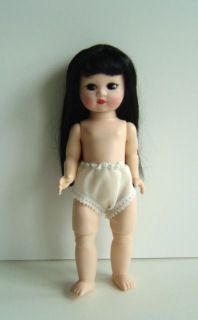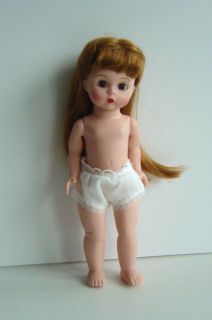 Click images above to enlarge
Teenage Madame Alexander Dolls
A rather unusual doll from this classic, high-quality American manufacturer, which started making dolls in 1923! This modern beauty has straight, shoulder-length auburn hair, and a very slightly dusky complexion. Her hazel eyes do not close but are very wide open and realistic. She would make a lovely older sister for our other younger-looking dolls. She stands 9in/23cm tall. Please let us know if you would like some clothes for this doll.
Click images above to enlarge
Payment
If you are interested in purchasing this doll, you can make an online payment by clicking the button below, or alternatively you can send us a cheque in the post.